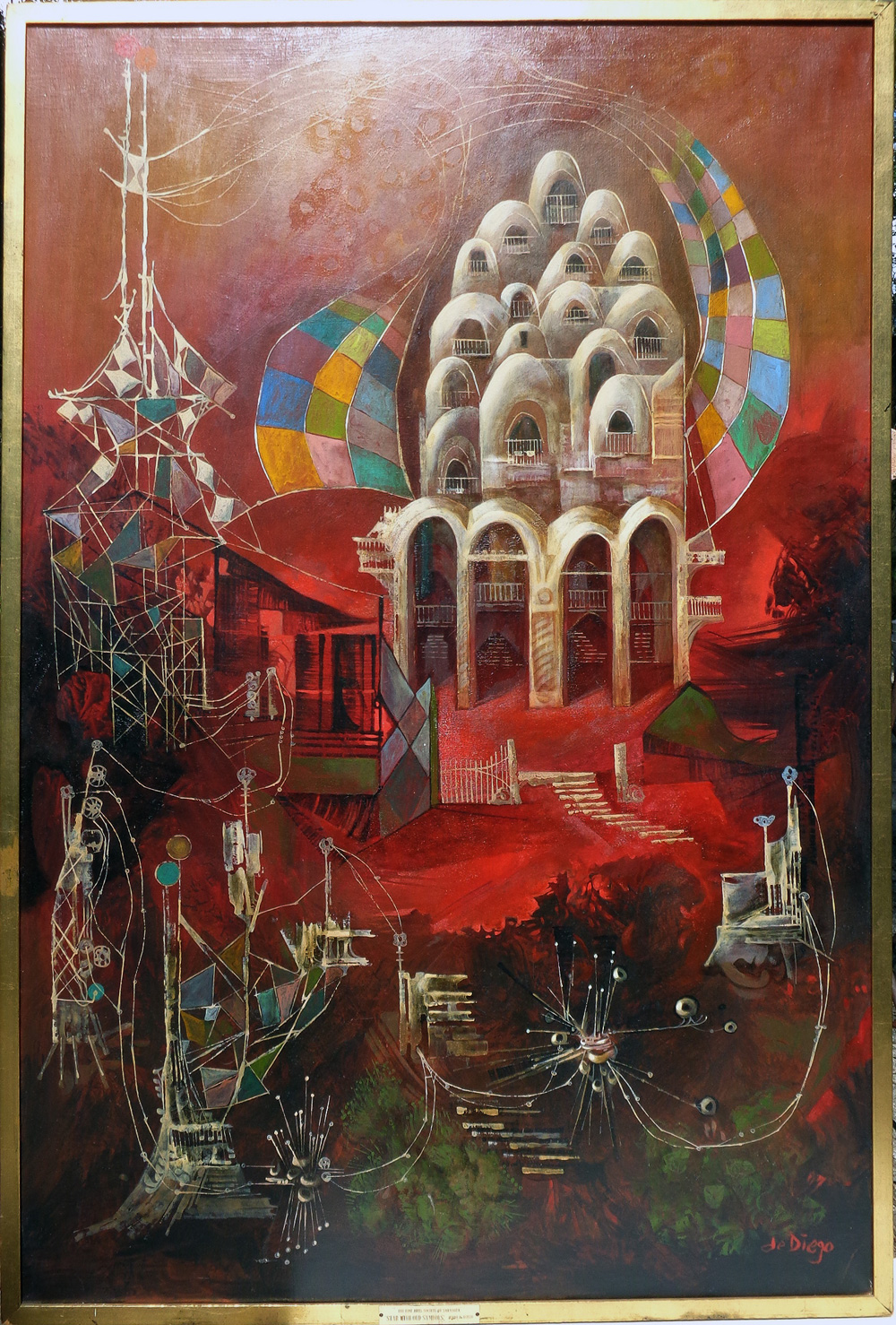 JULIO de DIEGO (1900-1979)
Star with old Simbols (Symbols)
Date: 1970
Oil on canvas: 48 x 32 inches
Frame: Painted black and gold wood frame: 49 ½ x 33 ¼ inches
Signed: de Diego (lower right)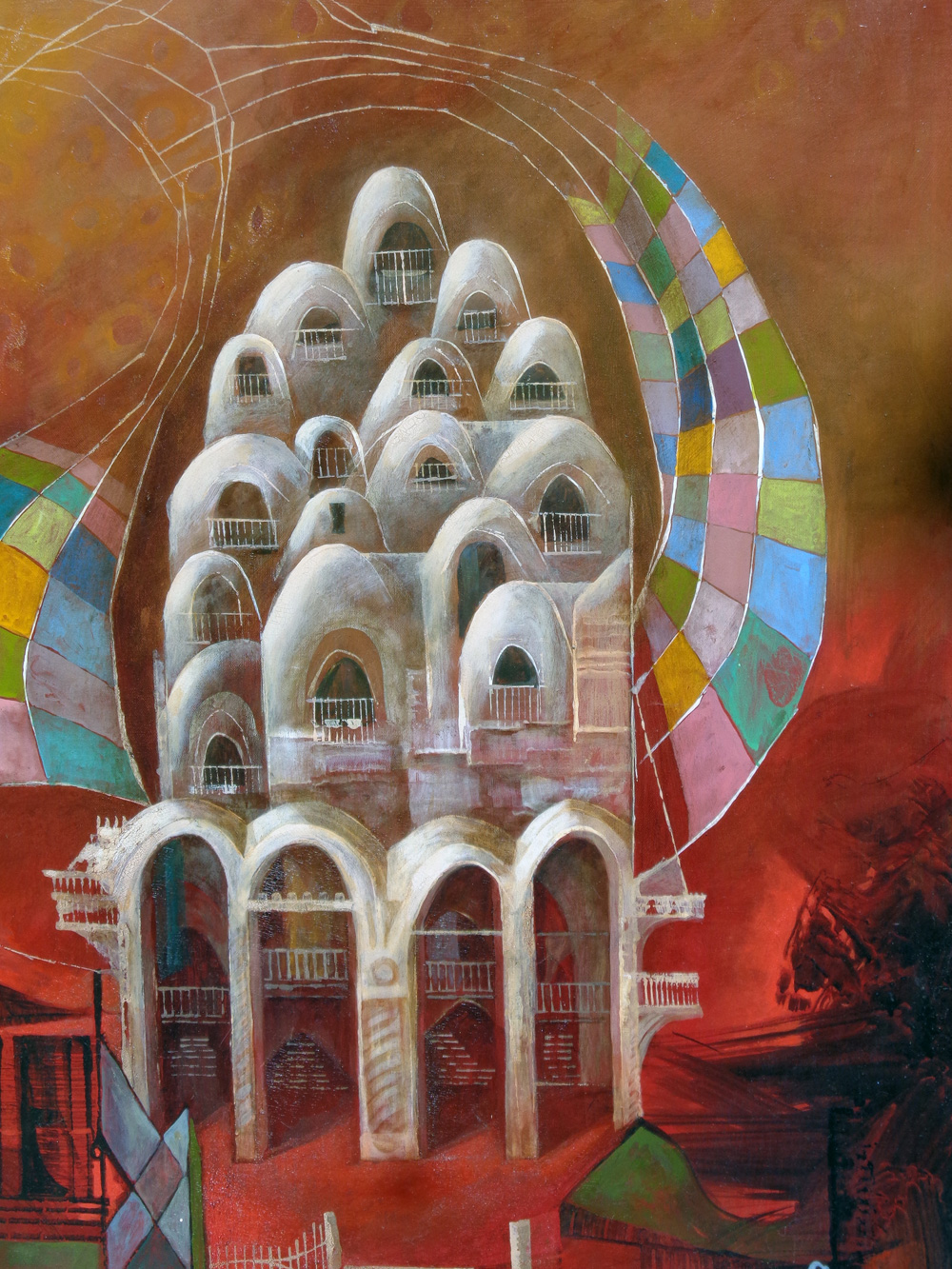 EXHIBITIONS
Sarasota Art Association 1972
Van Wezel Performing Arts Hall, Sarasota, FL
Corbino Galleries, Sarasota, Fl. "Julio de Diego: A Journey," February 14-26, 1992.
Selby Gallery, Ringling School of Art and Design, Sarasota, FL. "Multiple Visions: A History of Art in Sarasota," July 7- August 18, 2000.
LITERATURE
Dymond, Richard. "Canvas power: Exhibit to showcase artists who made Sarasota the Art Mecca," Bradenton Herald 2 Jul 2000, p 1-2 [ill. Star with Old Symbols] Caption: Julio de Diego (1900-1979) Star with Old Symbols, 1970. He painted political protests against the Spanish Civil War and the atomic bomb; appeared on television talk shows and in movies. He married Gypsy Rose Lee. With the reconstructed Van Wezel Performing Arts Hall now able to handle national Broadway tours and a half dozen quality theaters able to out-muscle New York's entire off Broadway lineup if given the chance, it's clear that Sarasota has a well-deserved national performing arts reputation. But "stage power" hasn't been Sarasota's art tag forever. Actually, in the 1940s and 1950s, it was more like "Canvas power" Back then, Sarasota was nationally known for its visual arts, among the best of any town other than New York. Sarasota was on a par even with Chicago, experts say. Now after 50 years the artists who created Sarasota's reputation….Four artists, Jon Corbino, Julio de Diego, Farnsworth, Fletcher Martin and Everett Shin, are represented in the Encyclopedia Britannica Collection. The show includes: Syd Solomon, Jon Corbino, David Budd, Wells Sawyer, Everett Shinn, Manierre Dawson, Jerry Farnsworth, Sydney Laufman, Helen Sawyer, Katherine Schmidt, Julio de Diego, Lois Bartlett Tracy, Boris Margo, Fletcher Marin, Hilton Leech, Ben Stahl, Gabriel Kohn, Conrad Marca-Relli, Phillip Guston, Richard Florsheim, Jimmy Ernst, John Chamberlain and Richard. Anuszkiewicz.

PROVENANCE
Estate of the Artist
Collection of the Fine Arts Society of Sarasota, FL
Private collection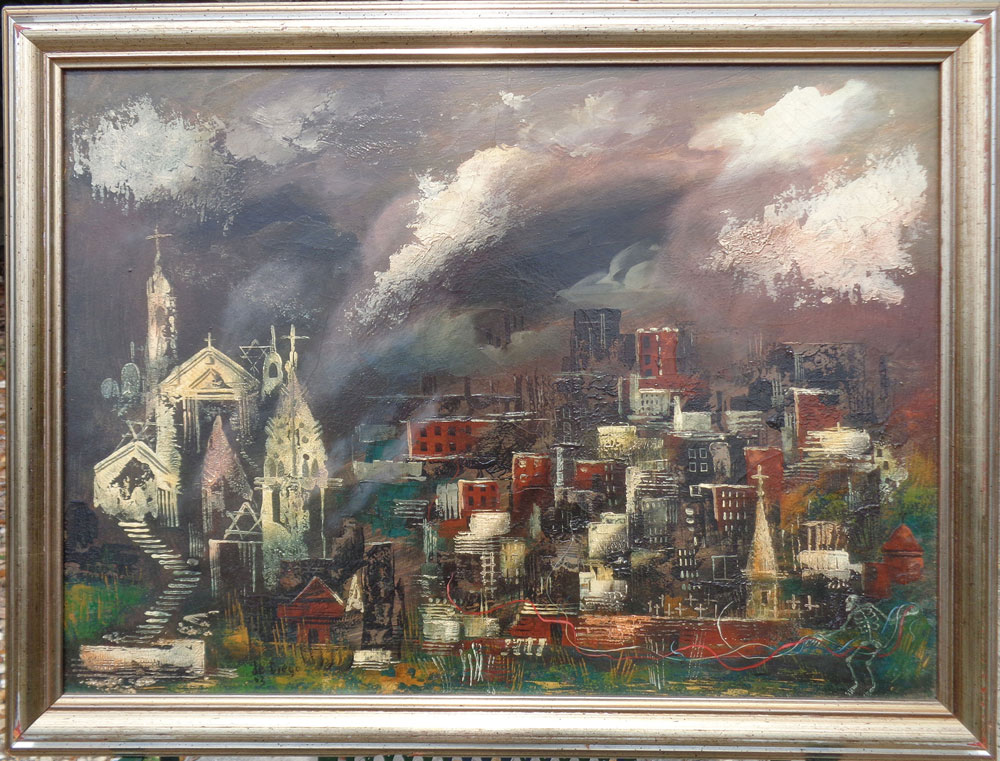 City of Many Activities
Date: 1943
Oil on Masonite: 16 x 22 inches
Newer gold painted wood frame: 19 x 25 inches
Signed: de Diego '43
Condition: random craquelure on painting and paint loss on frame
Another painting in this series is in the Hirshhorn Museum and Sculpture Garden, Washington, DC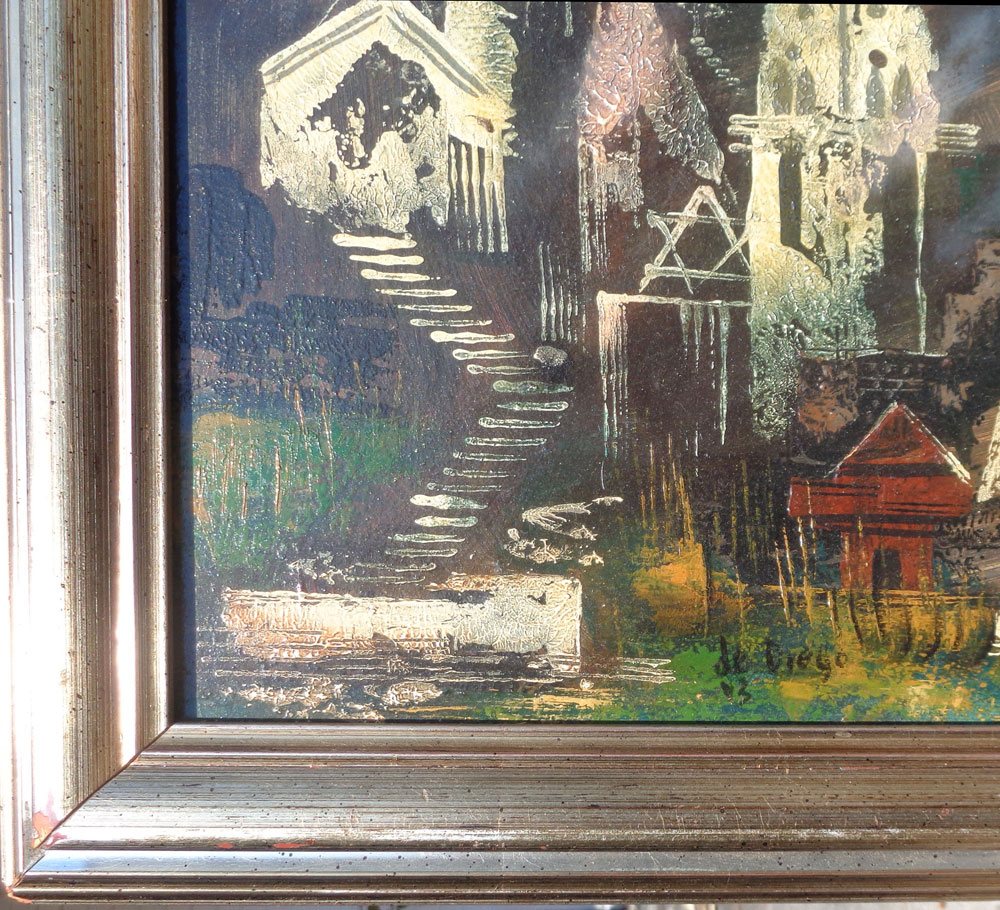 NOTE: the dark area on the frame's upper right is a shadow.
FLAMENCO DANCE
(description not title)
Date: 1979
Mixed Media on paper: image size 12 3/8 x 19 1/4 inches
Frame: Silver wood frame, double matted under glass or plexi-glas: 20 x 26 3/4 inches
Signed: de Diego '79 (lower right)
JULIO de DIEGO
Julio de Diego was a creative adventurer and an incorrigible idealist. He explored new worlds of image and content in his paintings, always pushing beyond established borders. Not only did he paint the monumental themes of our time, but he also probed the metaphysics of destiny and fantasy. All his work was an enigmatic commentary on life, often with an undertone of irony or humor. During his capricious and flamboyant career, Julio de Diego created a body of work that is astonishing in its inventiveness and magnitude.
The odyssey of Julio de Diego began in Spain where he was born at the turn of the century. Although his first encounter with fine art was in the magnificent churches of Madrid, de Diego had his first exhibition at the age of fifteen in a gambling casino. His family's opposition to a career in the arts compelled him to seek his fortune in Paris. In 1924 he immigrated to the United States, where he discovered ambience and celebrity in the New York art world and later married Gypsy Rose Lee.
During his formative years in Paris, de Diego assimilated the principles of modernism. Cubism, surrealism and abstractions were integrated into his paintings which sometimes included the influence of Goya, Picasso or the Mexican muralists. His intellectual curiosity and sensual pursuits prompted him to create images that became active performers in his aesthetic and philosophical debates. He was the picaresque puppeteer whose cast of characters —good, evil and fantastic—was brought to life with spirit and energy.
Just as de Diego explored innovative themes, he also developed a range of techniques. He perfected the Renaissance method of "envelatura", often using as many as 40 oil glazes or veils of color on a single painting. Gouache, graphite and mixed media were all possibilities for experimentation with both color and form. The surface of his paintings is complex and continuous, every stroke of paint an assertion of aesthetic intent and a commitment to excellence.
"All my painting are autobiographical, full of mystery, incongruous monsters, visions and sensuous personages, sybaritic dreamers, sentimentalist, romantics and comic sadists…all these things appear and disappear…then there is a contest to recapture them when they vanish…A painting is not what it is, but the memory that we have a life."
Julio de Diego 1979
"As an artist, he fits into no easy pigeonhole…He is a traditionalist at heart---and one of the best---yet he is not afraid to pursue an eccentric notion wherever it may lead…
TIME magazine 6/15/1962
…But they're all de Diego, as imaginative, as personal, as vibrant as ever, but set now in a more significant and interesting context from both a compositional and symbolic point of view."
Emily Genauer
NEW YORK HERALD TRIBUNE
1962
MUSEUM AND PUBLIC COLLECTIONS
The Metropolitan Museum of Art, New York City, NY
The Art Institute of Chicago, IL
Phillips Collection, Washington, DC
Hirshhorn Museum and Sculpture Garden, Washington, DC
Santa Barbara Museum of Fine Arts, Santa Barbara, CA
Walker Art Center, Minneapolis, MN
Milwaukee Art Institute, Milwaukee, WI
San Diego Fine Arts Society, San Diego, CA
Montclair Art Museum, Montclair, NJ
Florida State University, Tallahassee, FL
Seigfred Gallery, Ohio University School of Art, Athens, OH
Washington University Collection, St. Louis, MI
Fine Arts Society, Sarasota, FL
Encyclopedia Britannica
International Business Machines
Abbott Laboratories
Office of International Information and Cultural Affairs, Department of State, Washington, DC