JON CORBINO, N.A. (1905-1964)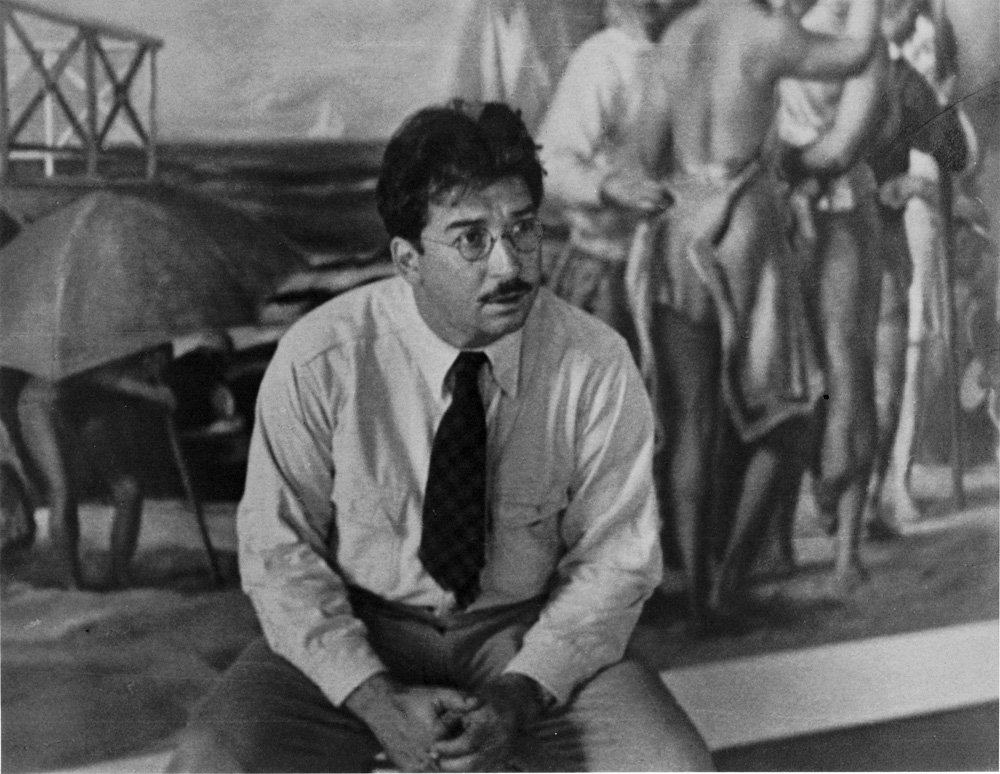 Jon Corbino in front of his mural commission "Pleasure of Beach Bathing" located at the Long Beach, LI, NY post office 1939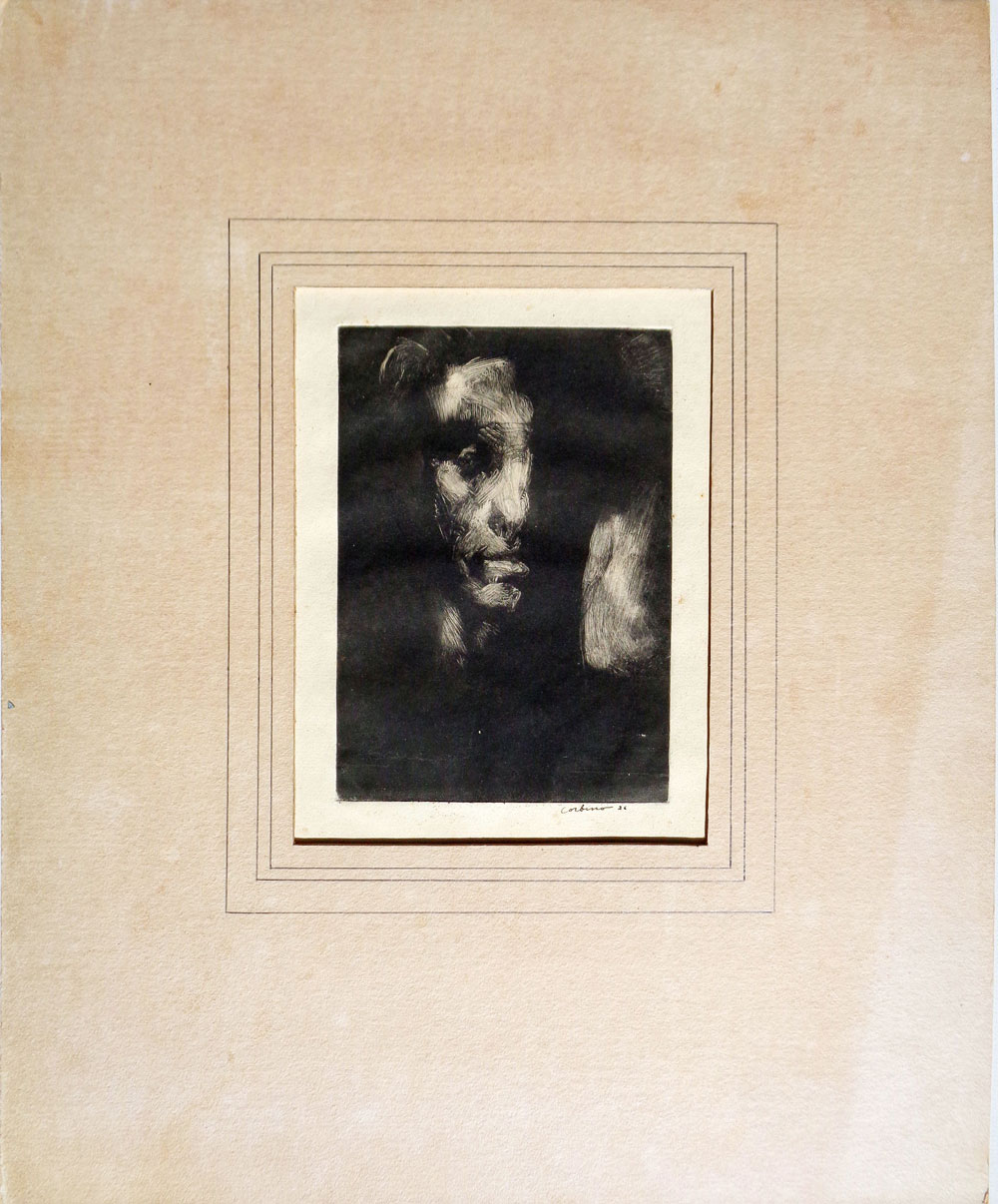 Portrait Etching 1926 by Jon Corbino © Artists Rights Society (ARS), New York
CLICK LINK 1920s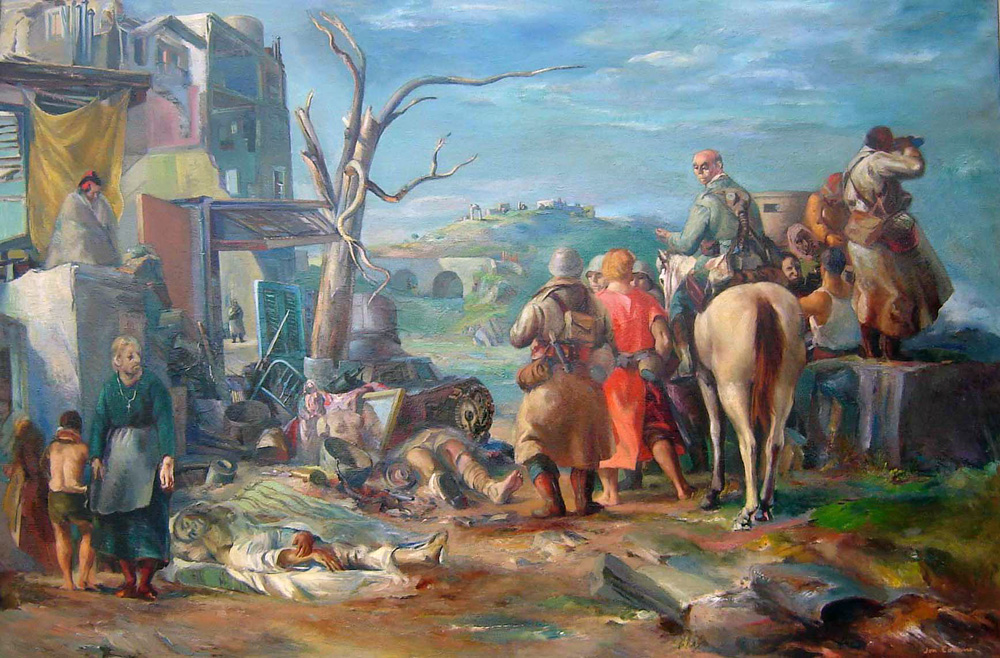 Victory 1939 by Jon Corbino © Artists Rights Society (ARS), New York
CLICK LINK 1930s
Kublai Khan by Jon Corbino © Artists Rights Society (ARS), New York
CLICK LINK 1940s
Summer Holiday by Jon Corbino © Artists Rights Society (ARS), New York
CLICK LINK 1950s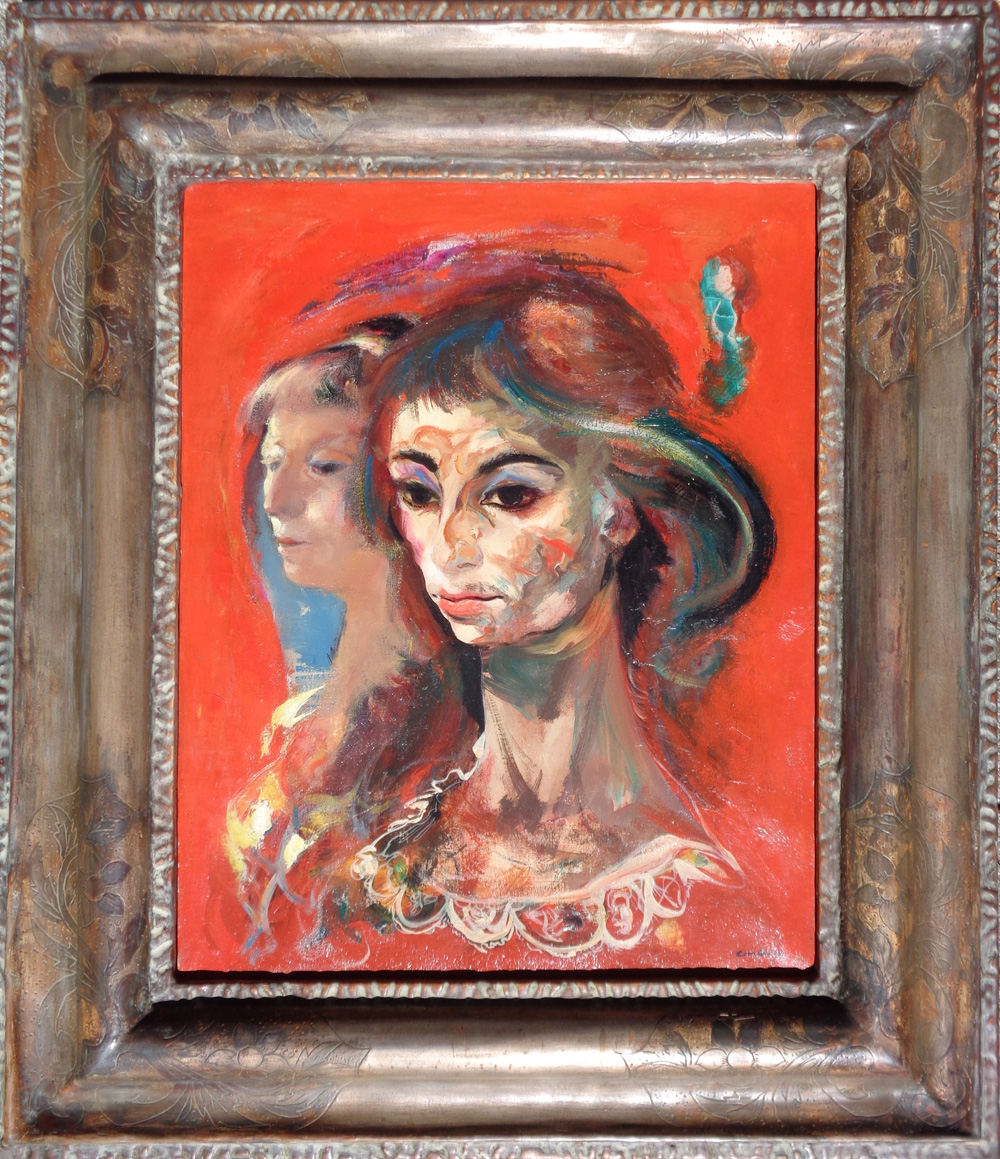 Ballet Dancer by Jon Corbino © Artists Rights Society (ARS), New York
CLICK LINK 1960s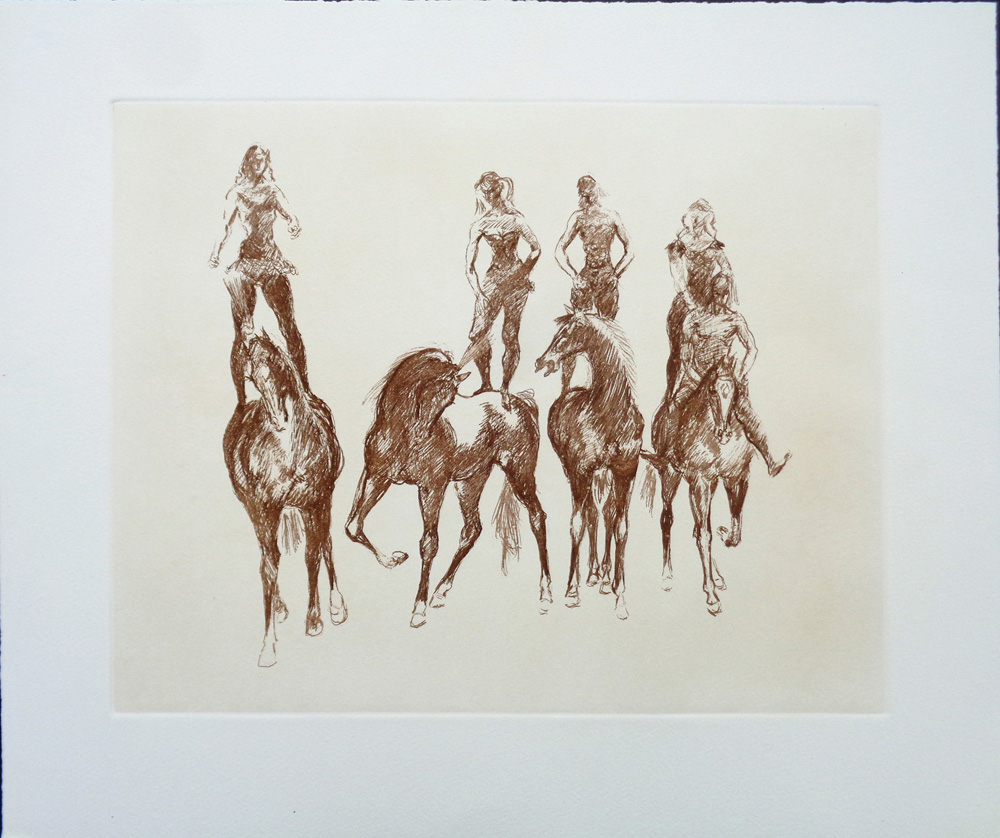 Four Bareback Riders by Jon Corbino © Artists Rights Society (ARS), New York
CLICK LINK LITHOGRAPHS
Clown by Jon Corbino © Artists Rights Society (ARS), New York
CLICK LINK STUDIES
CLICK LINK
If you would like to view additional works by Jon Corbino that are not presently on the website, please contact me.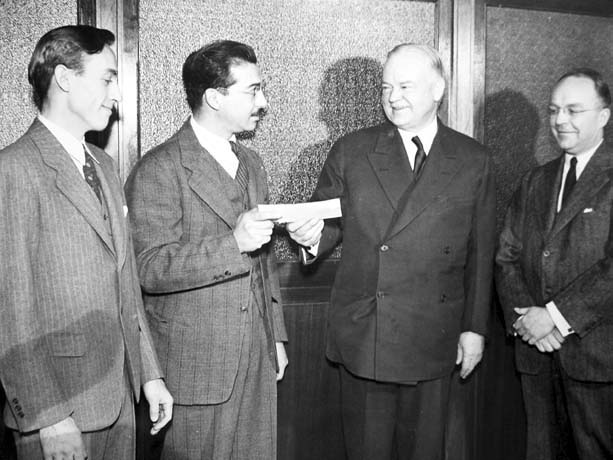 Chairman Jon Corbino presenting a check to President Herbert Hoover for the Hoover Committee for Finnish Relief 1940
JON CORBINO
Jon Corbino was one of the most acclaimed artists of the American art world. New York critics praised his smoldering color and sweeping draftsmanship, characterized his images as running the gamut from the clamorous tempests of Wagner to the frolicking breezes of Mozart.
Feature articles about Corbino appeared in Esquire, Time and Life as well as all the national art magazines. In 1945, at the height of his career, his paintings appeared on the covers of three art magazines. Corbino received the first grant awarded to a visual artist from the National Institute of Arts and Letters in 1941. The poet Stephen Vincent Benet made the presentation at Carnegie Hall, praising Corbino "because he has brought to American art rare gifts of color and design, and because of the honesty, richness and variety of his work."
Born in Vittoria, Sicily, on April 3, 1905, Corbino came to the United States at the age of eight with his parents. He grew up in New York City, where he was awarded an art scholarship to the Ethical Culture Fieldston School and attended the Arts Students League. He received two Guggenheim Fellowships and was elected a member of the National Academy of Design.
As early as 1931 Corbino's work was included in museum exhibitions with artists such as Degas and Matisse. His work was featured in three Venice Biennales and he won his first national award at the Art Institute of Chicago for a painting titled Earthquake.
People identified with Corbino's heroic themes, which revealed the anxieties of America during the 1930s. The critic from Art News observed, "Only thirty-three years old, Corbino has already become one of the foremost figures in contemporary painting." These paintings of disasters such as wars and floods were Corbino's tribute to the perseverance of man against the unknown forces of the universe.
Corbino was known for his love of horses, sometimes painting these powerful animals as mythic symbols from the Greek legends of his childhood. He painted the fantasy of the circus and the ballet, often from backstage where the performers were captured in a reflective moment.
The critic of the Chicago American defined Corbino's impressive career for a retrospective exhibition in 1966. "He painted people of the world-people on the beach, in the sun, in the moonlight. But he graced them with spirit, life, and movement that transcend the everyday."
Since 1922, Corbino's work has been in 91 solo and 1200 group exhibitions at Museum and galleries worldwide.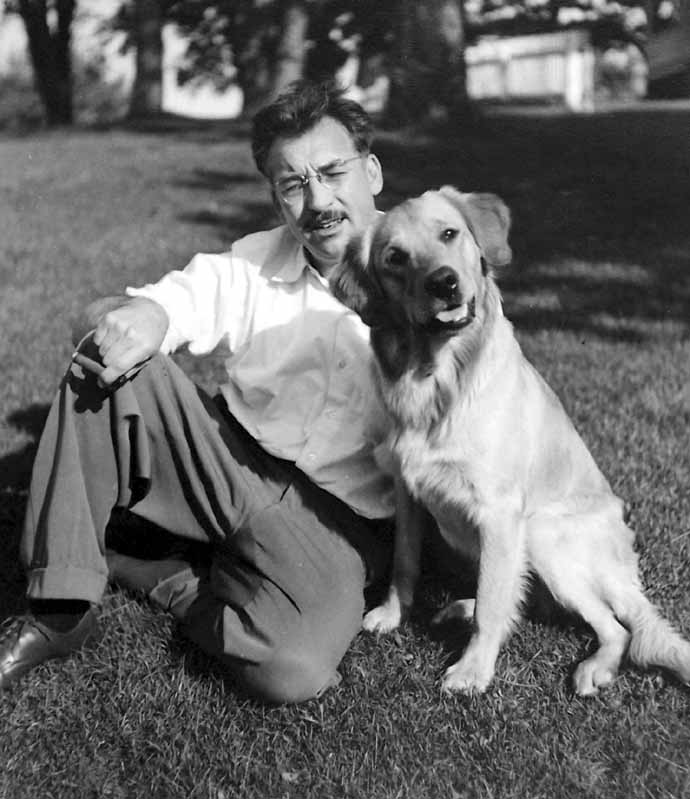 Corbino and his dog Chris at their home in Rockport, MA 1949
Museum and Public Collections
Metropolitan Museum of Art, New York, NY
Whitney Museum of American Art, New York, NY
National Academy of Design, New York, NY
Art Students League, New York, NY
Brooklyn Museum of Art, Brooklyn, NY
Art Institute of Chicago, Chicago, IL
Carnegie Museum of Art, Pittsburgh, PA
Pennsylvania Academy of the Fine Arts, Philadelphia, PA
The Detroit Institute of Arts, Detroit, MI
Indianapolis Museum of Art, Indianapolis, IN
Walker Art Center, Minneapolis, MN
The Montclair Art Museum, Montclair, NJ
Norton Museum of Art, West Palm Beach, FL
Portland Art Museum, Portland, OR
The Parrish Art Museum, Southampton, NY
Worcester Art Museum, Worcester, MA
Memphis Brooks Museum of Art, Memphis, TN
Nelson-Atkins Museum of Art, Kansas City, MO
Davenport Museum of Art, Davenport, IA
Grand Rapids Art Museum, Grand Rapids, MI
Butler Institute of American Art, Youngstown, OH
Mint Museum of Art, Charlotte, NC
Hickory Museum of Art, Hickory, NC
Fitchburg Art Museum, Fitchburg, MA
New Britain Art Museum, New Britain, CT
Arkell Museum, Canajoharie, NY
Dallas Museum of Art, Dallas, TX
Cape Ann Historical Museum, Gloucester, MA
Addison Gallery of Fine Arts, Andover, MA
Lotus Club, New York, NY
First National Bank of Chicago, Chicago, IL
Fine Arts Society, Sarasota, FL
Hallmark Cards, Inc., Kansas City, MO
Georgia Museum of Art, University of Georgia, Athens, GA
Oberlin College Allen Memorial Art Museum, Oberlin, OH
Howard University, Washington, DC
Sweet Briar College, Sweet Briar, VA
Mead Art Museum, Amherst College, Amherst, MA
Ball State University Museum of Art, Muncie, IN
Brigham Young University Museum of Art, Provo, UT
Mount Holyoke College Art Museum, South Hadley, MA
Palmer Museum of Art, Penn State University, University Park, PA
Ackland Art Museum, University of North Carolina, Chapel Hill, NC
Weatherspoon Art Gallery, University of North Carolina, Greensboro, NC
University of Oklahoma Fred Jones Jr. Museum of Art, Norman, OK
Hofstra University Museum, Hempstead, NY
Davis Museum, Wellesley College, Wellesley, MA
Samuel P. Harn Museum of Art, University of Florida, Gainesville, FL
Ringling School of Art and Design, Sarasota, FL
St. Boniface Episcopal Church, Sarasota, FL
Hebron Academy, Hebron, ME
Georgetown Library, Washington, DC
Fine Arts Museums of San Francisco, San Francisco, CA
Smithsonian American Art Museum, Washington, DC
National Art Museum of Sport, Indianapolis, IN
John and Mable Ringling Museum of Art, Sarasota, FL
Sheldon Memorial Art Gallery & Sculpture Garden, University of Nebraska, Lincoln, NE
National Gallery of Art, Washington, DC
United States Post Office, Long Beach, LI, NY.
Hillstrom Museum of Art, Saint Peter, MN
Children's Museum of Naples, Naples, FL
Colby College Museum of Art, Waterville, ME
Huntington Museum of Art, Huntington, WV
Madison Museum of Contemporary Art, Madison, WI
Springfield Museum of Art, Springfield, OH
Columbus Museum of Art, Columbus, OH
The Henry Luce III Center for the Study of American Culture, New York Historical Society, New York, NY
Town of Rockport, Massachusetts, Rockport, MA
Kalamazoo Art Institute, Kalamazoo, MI
Arkansas Art Center, Little Rock, AK
Art Center Sarasota, Sarasota, FL (formerly called Sarasota Art Association)
The Art Gallery, School of Arts and Humanities, University of Maryland, College Park, MD
The Cleveland Museum of Art, Cleveland, OH
The Philadelphia Museum of Art, Philadelphia, PA
Munson-Williams-Proctor Arts Institute, Utica, NY.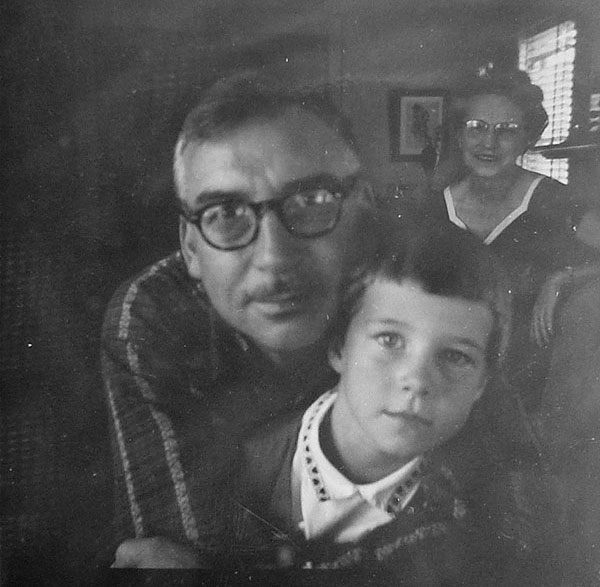 Jon and Lee at their winter home in Sarasota, FL 1957
AWARDS
1936-37 Guggenheim Fellowship
1936 M.V Kohnstamm Prize
The Art Institute of Chicago
Chicago, IL
EARTHQUAKE
"47the Annual Exhibition of American Painting and Sculpture" October 22-December 6, 1936
1937-38 Guggenheim Fellowship
1938 Baltimore Museum of Art
EARTHQUAKE
"200 Years of American Painting"
January 15-February 28, 1938
1938 Lotos Club Drawing Award
1938 Walter P. Lippincott Prize
Pennsylvania Academy of the Fine Arts, Philadelphia, PA
BATHER'S PICNIC
133rd Annual Exhibition of Painting and Sculpture"
January 30-March 6, 1938
1938 Adolph and Clara Obrig Prize
National Academy of Design, New York, NY
HARVEST FESTIVAL
"113th Annual Exhibition of Contemporary American Painting"
March 16-April 13, 1938
1940 Silver Medal
New Rochelle Art Association, New Rochelle, NY
TOPSFIELD FAIR BARN
"Painter and Sculpture Show"
May 1940
1940 Granger Purchase Prize
Federation of Arts, New York, NY
FIGHTING HORSEMEN
"Exhibition of Contemporary American Art"
October 6-November 5, 1940
1941 1st Painting Award awarded
Presented by Stephen Vincent Benet
National Institute of Arts and Letters, New York, NY
(1976 renamed American Academy of Arts and Letters)
January 1941
1942 Silver Medal
Da Vinci Alliance
"4th Annual Exhibition of Oil Painting"
February 1942
1944 Sanford Saltus Gold Medal
National Academy of Design
FAMILY
"118th Annual Exhibition of Contemporary American Painting
March 29-April 25, 1944
1944 Watson F. Blair Purchase Prize
The Art Institute of Chicago, Chicago, IL
MOTHER AND CHILD WALKING
"55 Annual American Exhibition of Watercolor and Drawing"
June 8-Aug 20, 1944
1945 Purchase Prize
Salamagundi Club, New York, NY
CIRCUS AERIALIST
"75th Anniversary Special Exhibition of Painting and Sculpture"
May 6-29, 1945
1945 Gold Medal of Honor
Audubon Artists Group
MOONLIGHT
"4th Annual Oil Painting Exhibit"
September 25-October 11, 1945
1945 Medal
Pepsi Cola Competition Award
Rockefeller Center, New York, NY
FOG
"2nd Annual Portrait of America Exhibition"
October 1945
1945 Tausca Pearl Competition Award
Portraits Inc, Galleries, New York, NY
JEAN
"Women with Pearls"
June 1945
1950 Hayward Niedringhous Award
Rockport Art Association, Rockport, MA
CENTURION
"30th Annual Exhibition"
August 1950
1951 Gold Medal of Honor
The National Arts Club, New York, NY
CIRCUS MIRROR
"53rd Annual Exhibition of the Invitational Arts Club"
January 18-31, 1951
1960 The Ranger Fund Purchase Prize
The National Academy of Design, New York, NY
EQUESTRIAN ACROBATS
"135th Annual Exhibition"
February 25-March 20, 1960
1961 Ellin P. Speyer Prize
National Academy of Design, New York, NY
EQUESTRIAN SUNRISE
"136th Annual Exhibition"
February 23-March 19, 1961