JON CORBINO, N.A. (1905-1964)
Fighting Horses by Jon Corbino © Artists Rights Society (ARS), New York
FIGHTING HORSES
1985
A eleven color lithograph
Printed on Arches Cover paper
Images size: 17 ½ inches x 23 ¼ inches
Paper size: 21 ½ inches x 29 1/2
Hand proofed and printed by Emiliano Sorini March 1985
Printed from aluminum plate
Chromist Jean-Pierre Remond
Lee Corbino will posthumously sign and title in pencil.
Unframed
This lithograph was produced by the estate of Jon Corbino. It was an edition of 250 with 30 artist's proofs. The original was drawn in 1959 on mauve/flesh color watercolor paper with pastels, gouache and charcoal. This lithograph replicates the original exactly and looks as if it is the original work. The paper is heavy textured watercolor paper and the drawing and painting in charcoal, pastels and gouache has the look and texture EXACTLY like the original.
You will be very pleased. It is suggested when framed to use UV glass. It is signed in pencil by the estate- Fighting Horses-Artist's proof- Jon Corbino (LC). This lithograph bears the chop of printer Emiliano Sorini.
This lithograph was produced by the artist's estate. It was an edition of 250 with 30 artist's proofs. The chromist Jean-Pierre Remond came from Paris to Emiliano Sorini's New York City printing studio to mix the eleven colors used on Fighting Horses.
Jean-Pierre Remond has mixed the colors for Salvador Dali lithographs as well as Pablo Picasso's. Mr. Sorini, originally from Urbino, Italy is a master printer and his studio is on Lafayette St. in NYC. He has printed lithographs for Jackson Pollock, Louise Nevelson, Jack Levine, Jim Dine, Leonard Baskin and Anthony Quinn.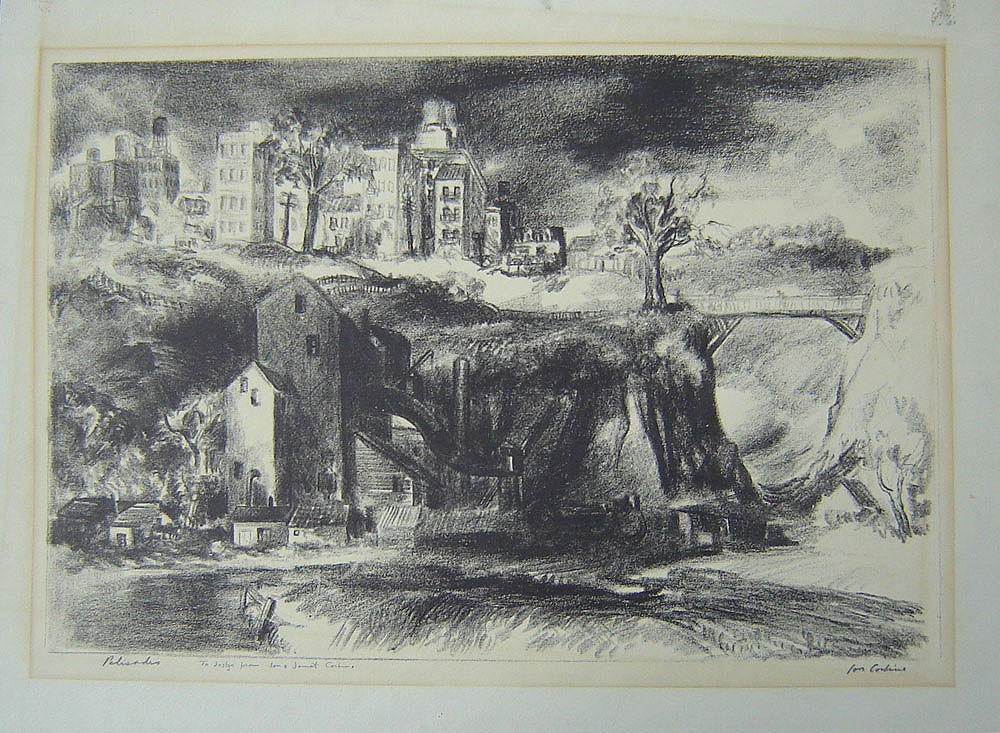 Palisades by Jon Corbino © Artists Rights Society (ARS), New York
PALISADES
Date: 1936
Edition: 25 to 30 printed by Associated American Artists, NY
Stone Lithograph: image size 9 5/8 x 14 ¼ inches
Paper Size: 12 3/16 x 16 5/8 inches
Signed: Titled and inscribed to Joslyn from Jon and Janet Corbino (lower left) and signed Jon Corbino (lower right) in pencil
Condition: Age-toned mint colored paper with mat burn on paper. Hinge residue that bleeds into upper paper margin that will be framed out.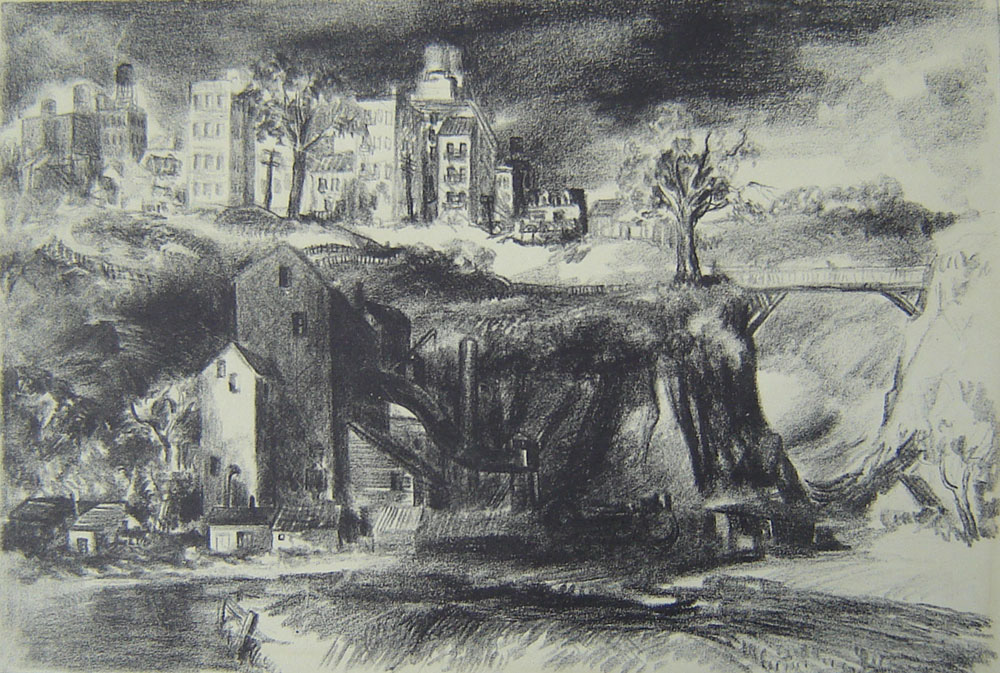 Note: The Palisades, also called the New Jersey Palisades or the Hudson Palisades are a line of steep cliffs along the west side of the lower Hudson River in northeastern New Jersey and southern New York.
The cliffs stretch north from Jersey City (where their emergence is called Bergen Hill approximately 20 mi (32 km) to near Nyack, New York. They rise nearly vertically from near the edge of the river and are among the most dramatic geologic features in the vicinity of New York City, forming a canyon of the Hudson north of Fort Lee, as well as providing a vista of the New York City skyline.
Palisade is derived from the same root as word pale, ultimately from the Latin word palus, meaning stake. The Lenape called the cliffs "rocks that look like rows of trees" in a phrase that has become Weehawken, and is the name of the town which sits at the top of the cliffs across from Manhattan.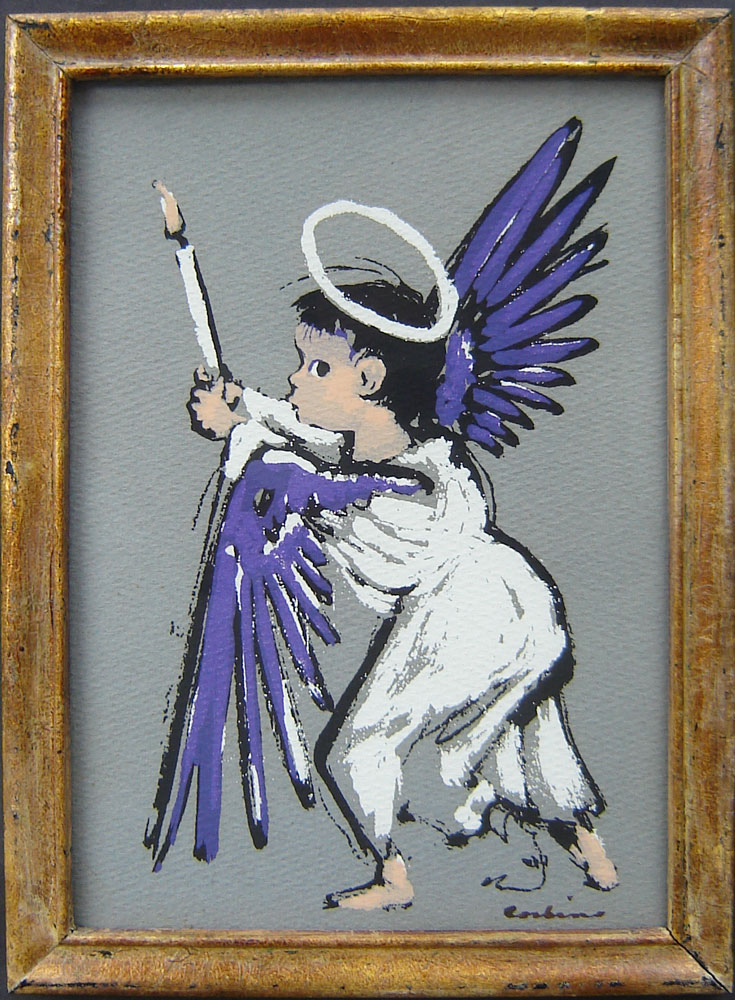 Angel Christmas Card by Jon Corbino © Artists Rights Society (ARS), New York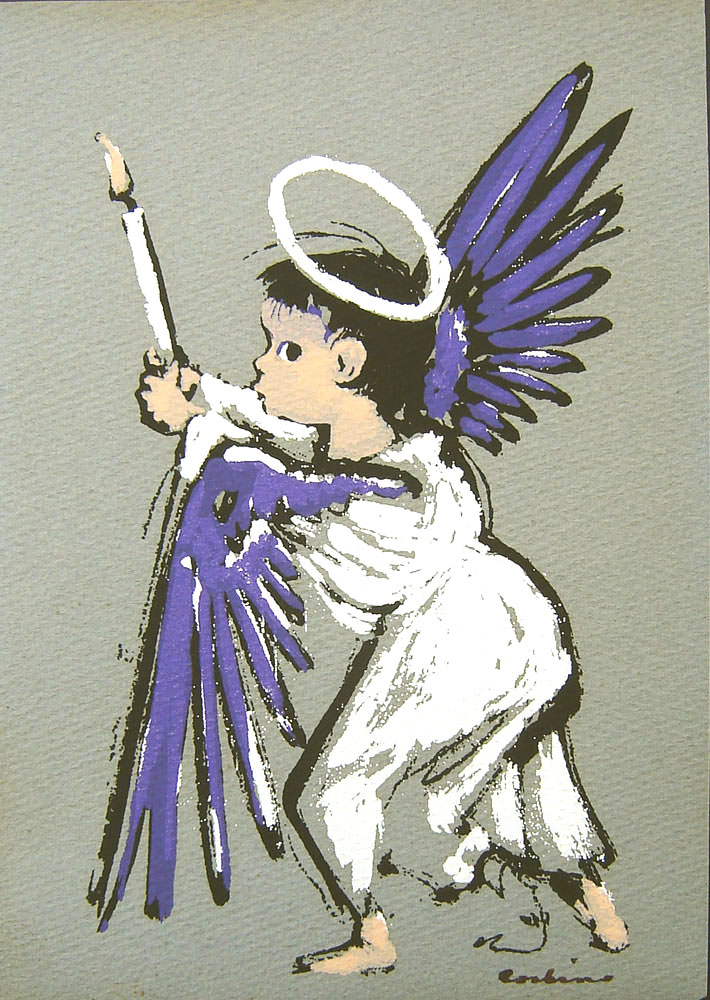 ANGEL CHRISTMAS CARD
1952
Printers ink on paper: 7 x 5 inches
Signed: by hand Corbino (lower right)
Gold leaf wood frame: under glass 7 7/8 x 5 5/8 inches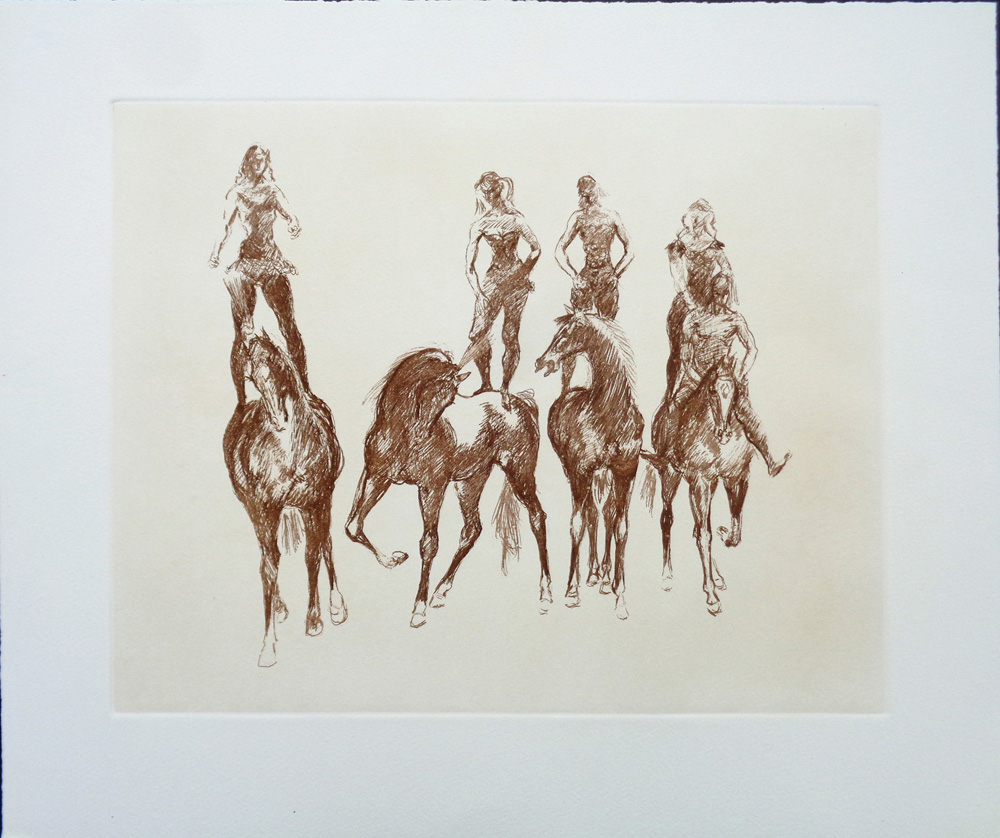 Four Bareback Riders by Jon Corbino © Artists Rights Society (ARS), New York
FOUR BAREBACK RIDERS
Date: July 1985
Edition: 6 printed by Emiliano Sorini, New York, NY as an experiment with an etching plate. The original drawing is for sale on this website.
Brown Ink on heavy paper
Plate impression: 10 ¾ x 13 1/2 inches
Paper Size: 15 x 17 3/4 inches
Lee Corbino will posthumously sign and title in pencil
Unframed
Note: see the original ink drawing under Corbino 1960s