JON CORBINO, N.A. (1905-1964)
Zenobia© Artists Rights Society (ARS), New York
ZENOBIA
1961
Graphite and glazed one of a kind ceramic: 14 inches diameter
with a 2 3/8 inch height rise from the center to the edge
Signed: Corbino (lower center)
Hanger on verso including another signature
Flawless condition
Ben Stahl introduced his good friend, artist Jon Corbino (1905-1964) to ceramics in the early 1960s. They would go together to experiment with the medium at Doris Bull's Celeste Ceramic studio in Sarasota, Florida.
Zenobia (240 – c. 274) was a 3rd-century Queen of the Palmyrene Empire in Roman Syria. She led a famous revolt against the Roman Empire. The second wife of King Septimius Odaenathus, Zenobia became queen of the Palmyrene Empire following Odaenathus' death in 267. By 269, Zenobia had expanded the empire, conquering Egypt and expelling the Roman prefect, Tenagino Probus, who was beheaded after he led an attempt to recapture the territory. She ruled over Egypt until 274, when she was defeated and taken as a hostage to Rome by Emperor Aurelian.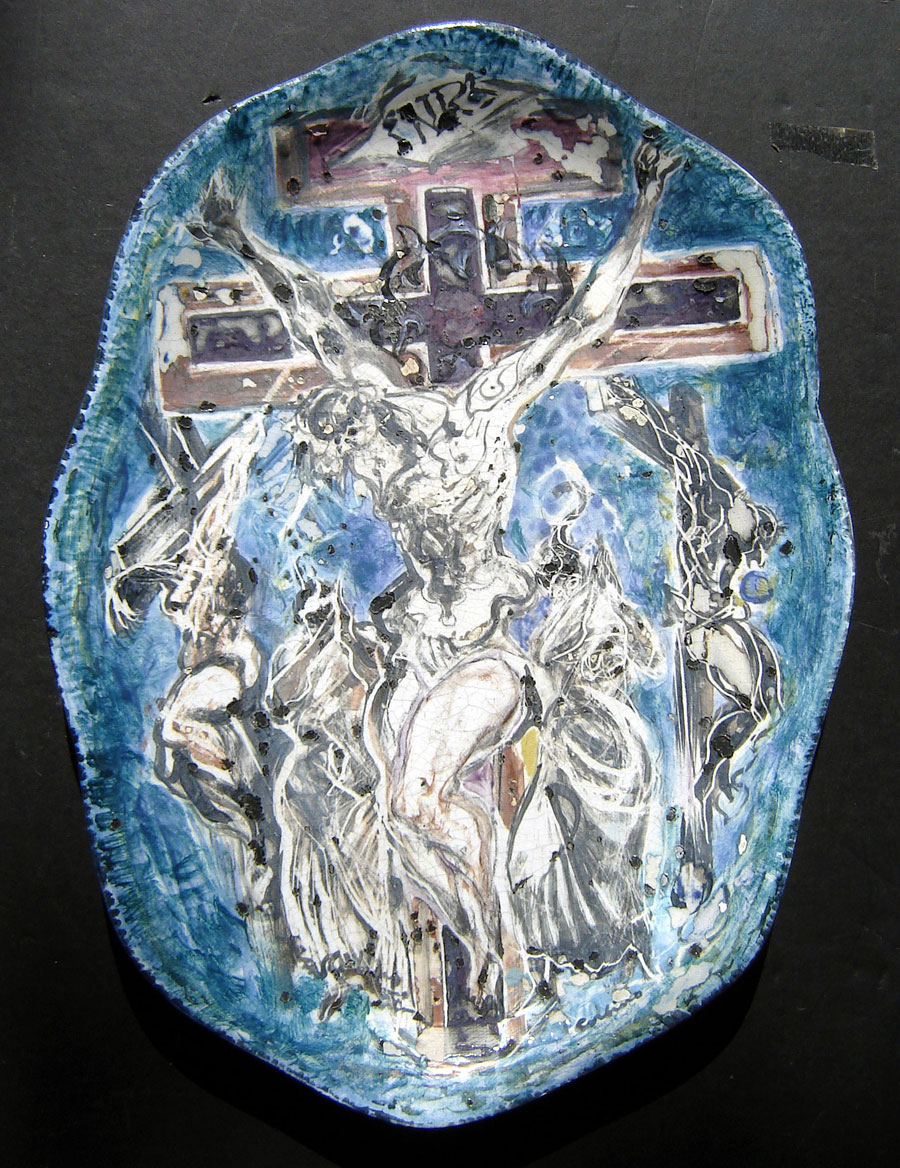 Crucifixion Platter © Artists Rights Society (ARS), New York
CRUCIFIXION PLATTER
1961
Hand painted ceramic platter with glaze: 16 ¼ x 11 3/4 inches
Signed: Corbino (lower right) and verso (lower right center [upside down]). Also, Crucifixion written twice on verso (upper right side)
Condition: Glaze irregularities through-out like pock marks and verso multiple chips in glaze (firing irregularities). In above photo-- top white area is a reflection
Ceramic Tissue Box Cover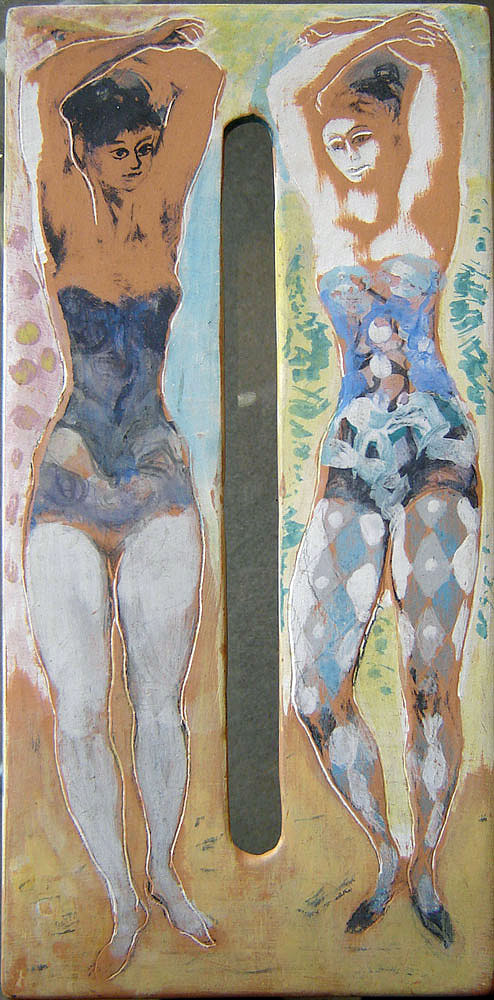 1961
One of a kind (not an edition) ceramic tissue box cover with glaze: 10 ½ x 5 3/16 x 2 3/8 inches.
Unsigned: The estate of Jon Corbino will provide a letter of authenticity.
Verso of box: Ben Stahl Ceramic Adv. Co. (Roman numeral) I in lower right corner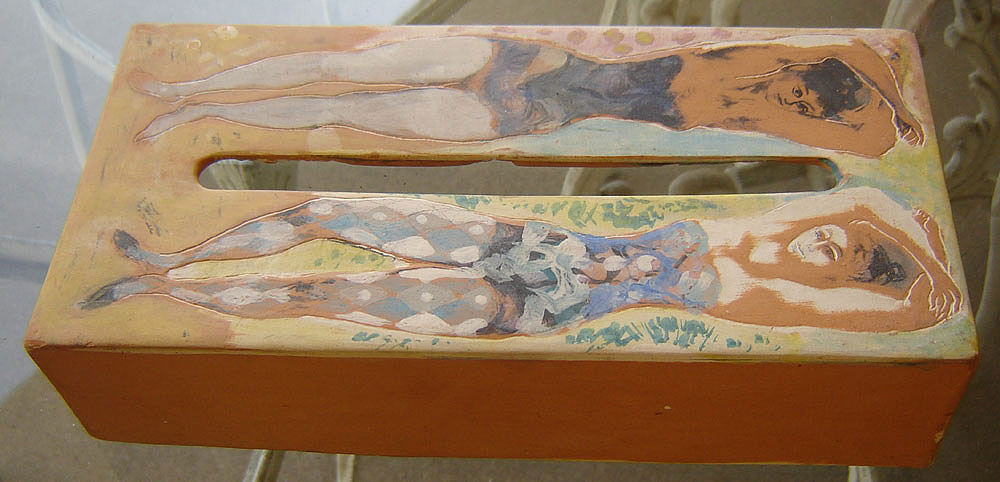 Note: This 1961 box does not fit a standard 2014 box of tissues although it has been used at my father and mother's house since then and is now displayed. It is up to you if it needs to be fired again as the glaze is not vitreous but for over fifty years it has been displayed at the house with no problem as is. A few areas of glaze have chipped off i.e. right side. Pencil drawing is still visible, white round areas exposed on sides where 1st firing glaze didn't cover.
SCULPTURE


Nude Woman by Jon Corbino © Artists Rights Society (ARS), New York
NUDE WOMAN
Circa late 1920s-1930
Wood Sculpture: 20 3/4 x 3 ½ x 4 inches
Unsigned: The estate of Jon Corbino will provide a letter of authenticity


Note: This sculpture above was once a lamp, there are holes on the bottom of the feet to connect to a base, and two holes—one at the back of her neck to thread the wire which comes out at (the top) the center of her forearm that is covering her head. Looks great displayed lying down on a shelf or table.